Things That Matter
A Black Woman Says She Was Refused Service At A Baltimore Restaurant
Baltimore-based restaurant Ouzo Bay is being slammed for racism after a video of a Black woman and her 9-year-old son being denied service circulated online. The restaurant is being accused of denying service to a boy who had been dressed similarly to a white boy who was served despite the restaurant's applied standard.
In a post to her Facebook page, Marcia Grant and her son were denied service in an incident that was hard to watch her son endure.
In a post to her Facebook page, Grant shared two videos and several still images of the incident to Facebook. "Ouzo Bay would not let Dallas eat at there restaurant sighting that athletic wear was not allowed!" Grant wrote in her post. "I pointed out to them that there was a white child that also had on athletic wear just getting up from dinning there, they still would not let my son eat there! I have faced racism time and time again, but it's hard AF, when you have to see your child (9yo) upset because he knows he's being treated different that a white child!!!"
The disturbance occurred at Ouzo Bay, a restaurant owned by the Atlas Restaurant Group, located in Maryland.
In the videos shared by Grant a white manager, who has yet to be identified, tells Grant that she and her son cannot be seated in the restaurant because of how her son is dressed. Grant's son can be seen wearing sneakers, an Air Jordan T-shirt, and athletic shorts.
"Unfortunately, we do have a dress code," the manager tells Grant in the video. In response, Grant points out a white boy at the restaurant who is dressed in athletic clothing. The white boy not only seems to be dressed almost exactly the same as Grant's son but also leaving the restaurant with his family after he had been served.
In response to the incident, Atlas Restaurant Group apologized to Grant and her son in a statement.
"This should never have happened, the manager seen in the video has been placed on indefinite leave," the statement says in part. "We are sickened by this incident. We sincerely apologize to Marcia Grant, her son and everyone impacted by this painful incident."
The group said its dress codes are the "result of ongoing input from customers," and "in no way are they intended to be discriminatory."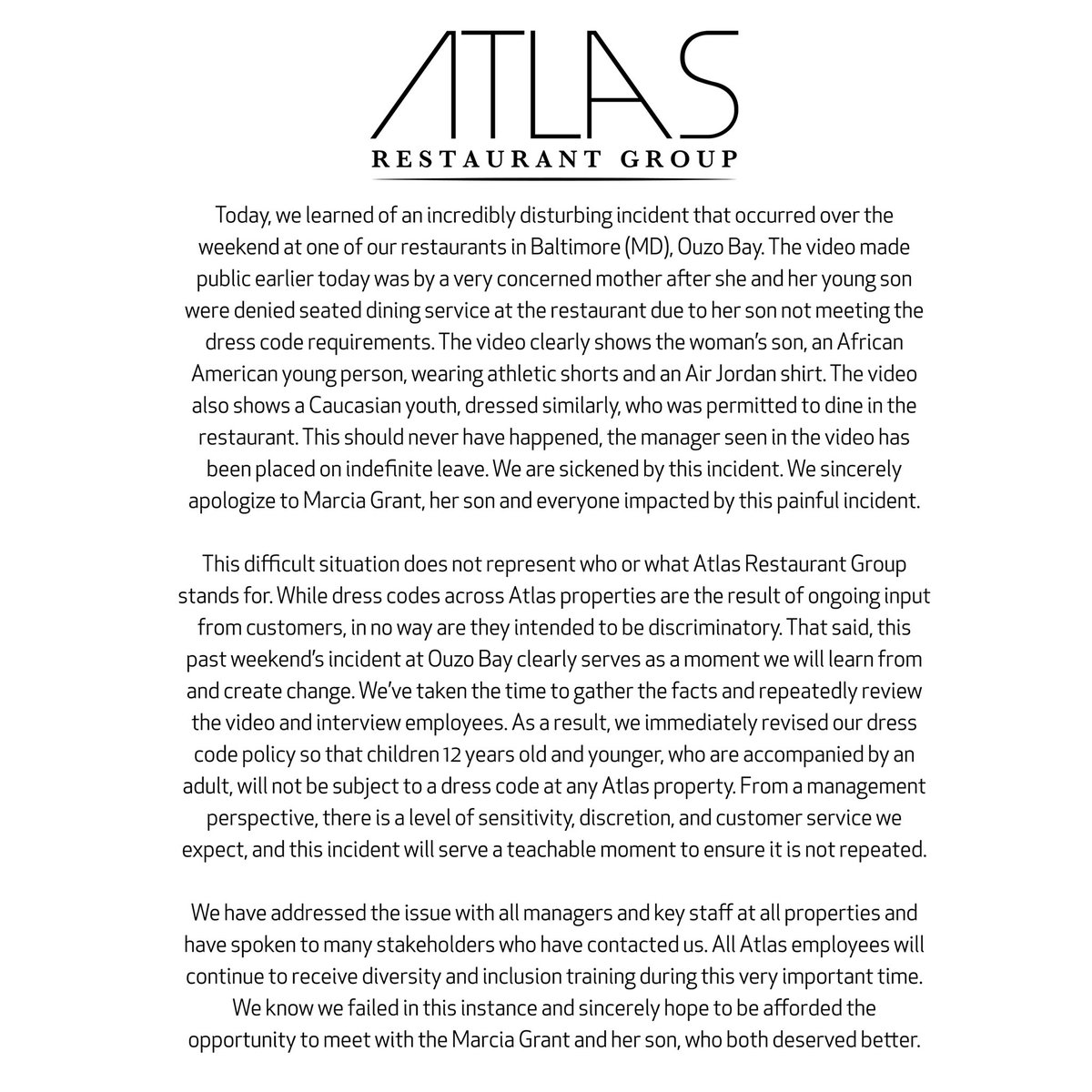 "Today, we learned of an incredibly disturbing incident that occurred at one of our restaurants in Baltimore, Ouzo Bay. We sincerely apologize to Marcia Grant, her son & everyone impacted by this painful incident. This situation does not represent who or what Atlas stands for," the group said in a statement shared to Facebook
Atlas said it was immediately changing its policy so that children the age of 12 and under won't be subjected to the dress code.
According to the comments section of the post and a report by The Associated Press, this is not the first time the chain has been slammed for its dress code. Last September, Atlas came under fire for their dress code when its restaurant Choptank in Fells Point banned "baggy clothing, sunglasses after dark and bandannas." After complaints of discrimination from customers the restaurant modified the dress code.
Notice any corrections needed? Please email us at corrections@wearemitu.com