Things That Matter
'Game Of Thrones' Actress Protests George Floyd's Death
The Queen in the North says no justice, no peace!
"Game of Thrones" actress Sophie Turner proved herself worthy of a fight over the weekend when she aligned herself with the Black Lives Matter movement and delivered a powerful message about George Floyd's death. In a series of pictures shared to her Instagram page, the actress showed that she and her husband had been active in the Black Lives Matter protests that took place in Los Angeles.
In a post to her Instagram, Turner shared photos of the protests with a powerful message.
"No justice, no peace," she wrote in an Instagram caption featuring the images of protestors lying on the ground and kneeling as part of a demonstration against George Floyd's death.
When a fan asked Turner if the protests really needed to continue the actress was blunt with her reply.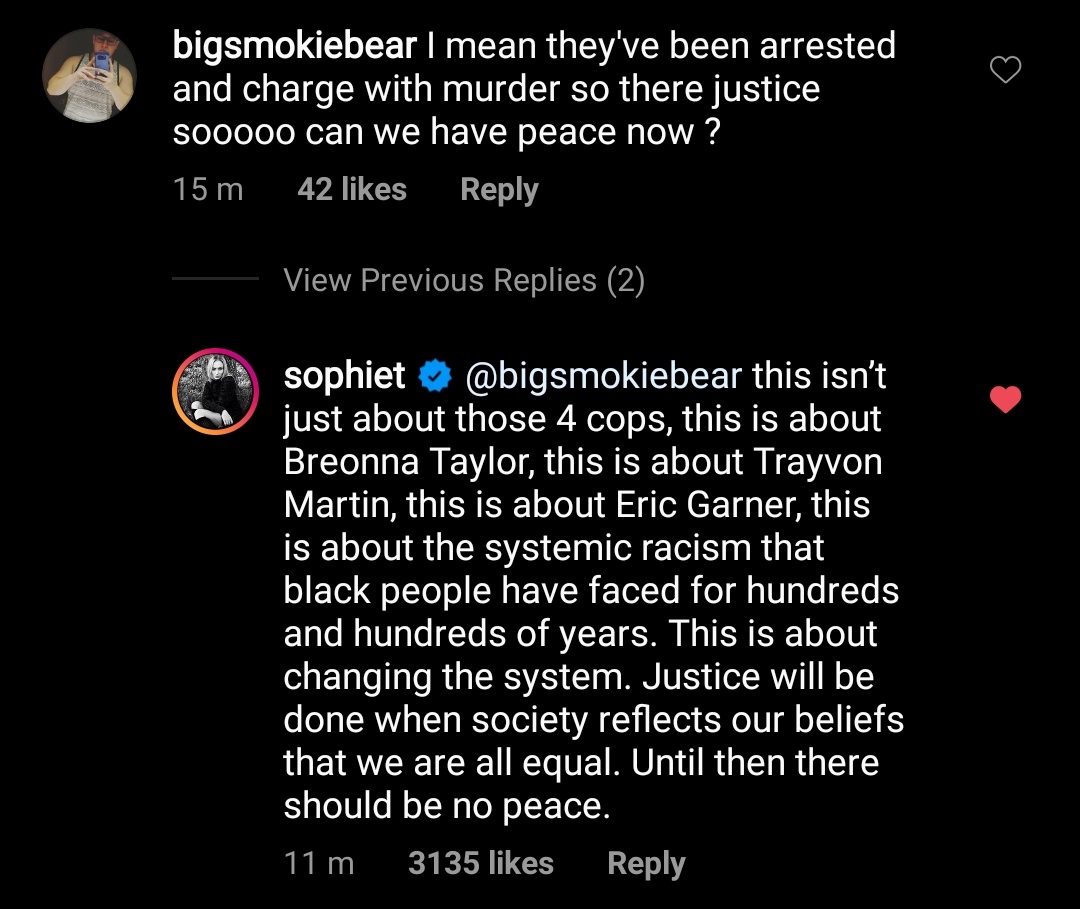 In response to Turner's post, a fan asked whether protests were still necessary considering all four officers in George Floyd's death have been arrested and charged. "So there justice sooooo can we have peace now?" the user asked.
In response, Turner said "this isn't just about those 4 cops, this is about Breonna Taylor, this is about Trayvon Martin, this is about Eric Garner, this is about the systemic racism that black people have faced for hundreds and hundreds of years. This is about changing the system. Justice will be done when society reflects our believes that we are all equal. Until then there should be no peace."
It's not the first time the Queen in the North fought for justice and the Black Lives Matter movement.
The Instagram star took to her Instagram last week after riots flared in response to the death of George Floyd and wrote "My heart is heavy. I stand in solidarity with those speaking out against racism and fighting for justice and equality," she wrote. "Silence is not an option."
Along with her reply, Turner asked fans to educate themselves on the movement by listing activists to follow which included Colin Kaepernick and Indya Moore. "While my voice is not one that needs to be heard, I want to highlight some of those we should listen to," Turner explained.
Here's a look at a few organizations to help like Sophie Turner is.
Homeless Black Trans Woman Fund
The Homeless Black Trans Woman Fund provides support and funds to Black trans women in Atlanta who are sex workers and homeless. The fund works to give women cell phones, housing, food, and other necessities. According to the fund's founder, Jesse Pratt López, "Atlanta has almost no resources for Transgender women, so I took matters into my own hands."

Donate to the fund here.
NAACP Legal Defense Fund
Donate to the fund here.
Black Visions Collective
Donate to the fund here.
The Loveland Foundation
This is one fund that we feel particularly strong about because of its efforts to support the mental health and well being of women of color.
Donate to the fund here.
The Okra Project
The Okra Project is a collective bringing healthy and home-cooked meals to Black trans people across the country. The project organizes and pays for Black trans chefs to go into the homes of other Black transgender people and cook them a free meal.
Donate to the fund here.
Notice any corrections needed? Please email us at corrections@wearemitu.com