wearemitu
These TikTok Videos Teach Us How To Veganize Our Favorite Latinx Holiday Dishes
Spending time at home with the familia isn't always easy for vegans and vegetarians — especially in Latinx families. Often times, vegans will have to do a little extra mental, physical and domestic preparation around the holidays. Your abuelita is still confused on why pollo isn't a vegetable and your dad is smirking at you like you're about to come out of this "phase" any second.
Thankfully, as Latinos, most of our traditions are rooted in recipes that are easily adaptable to a plant-based diet. And, in fact, many of our favorite Indigenous foods are already heavily plant-based.
Although veganizing lechón isn't exactly on most people's to-do lists for the holidays (though it has been done), some of our absolute favorite nostalgia-inducing dishes, like flan, mofongo y pasteles can all be veganized with a few little twists.
Pozole Con Yaca
Pozole is a hearty, spicy, satisfying Mexican soup that is often served during the holiday season. There are three varieties most commonly served: rojo, verde y blanco. My favorite version is this red one made with jackfruit as the meat-substitute.
Traditional Tamales
Regardless of the time of year, tamales are easily one of my go-to foods! They're tasty, easy to eat, and available in a wild number of options — even vegan versions. Though let's not forget all the work that goes into making them — it's not easy. That said, this roundup of plant-based recipes is sure to keep your skeptical tío asking for more.
Empanadas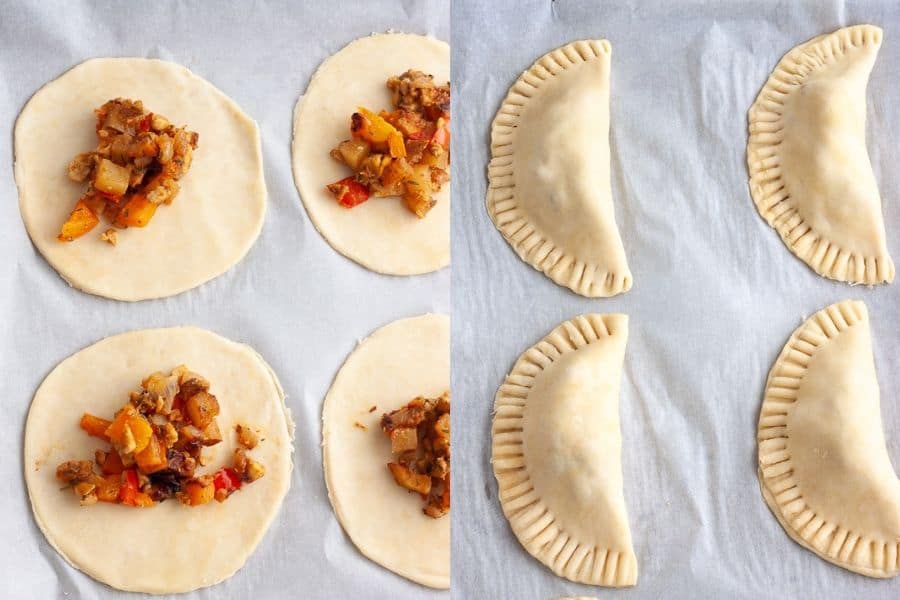 What is it about pastry-like foods during the holidays? They're so comforting and packed full of flavor, that they're definitely one Christmas dish you can't pass up. And yes, they're available year round (and just as tasty) but there's nothing quite like savoring a classic during the most festive time of year.
You can stuff them full of veggie substitutes of beef and pork or go the vegetables route. And the best part? They're handheld for easy eating while you visit with family.
Vegan Bacalao
A Mexican take on a Spanish dish of stewed and salted cod, this vegan version is just as packed full of flavor as the OG dish and free of all animal products. Depending what part of the country you are in they also add raisins and slivered almonds. Plus, there are plenty of protein substitutes to this dish, including jackfruit and mashed chickpeas.
Coconut Flan
Few dishes are as comforting and tasty as a good flan. That's why it makes an appearance at pretty much every holiday — but especially at Navidad. Thankfully, flan is one of the easiest traditional recipes that you can make vegan. Try this recipe from Ela Vegan that doesn't require any baking and just 15-minutes of prep time.
Mofongo
The key to good mofongo — ask any Puerto Rican or Dominican — is super green platanos. You want them to have plenty of starch to be able to get that perfect consistency. For the ultimate holiday dinner mofongo, I turn to the recipe from Plant-Based Boricua which also features plant-based chick'n.
Pasteles
For Puerto Ricans, Christmas is not Navidad without pasteles. Along with lechón, they're staples at the holiday dinner table. But, like tamales, they take a bit of effort to make. Thankfully, there are tons of great vegan recipes out there like this one from Black Rican Vegan to make things easier for you.
Rosca de Reyes
Few dishes are as packed full of meaning as the rosca de reyes. Traditionally consumed on Three Kings Day or Día de Reyes in Mexico (though enjoyed all season long), the classic sweet bread comes filled with a plastic baby Jesus — or multiple ones depending on its size. While the fruit on top of the rosca is meant to represent the crown's jewels. The lucky person to find baby Jesus is later responsible for bringing tamales to the Feast of the Candelaría which takes place on February 2.
Arroz Con Leche
Another popular dish during the holidays that I eat all year round. Rice pudding is a thick dessert that I love because it's simple to make in large amounts. It doesn't take a lot of ingredients, either. Just a plant-based milk, sugar, and rice are the main items you need to make this classic postre.
Buñuelos
Fried foods are something many countries and cultures have in common. There's something about the crispy, flavorful texture that gets the stomach rumbling.
In Colombia, there's one such dish that looks simple enough. But it's a favorite dish for Christmas and is closely related to the fritter. Try out this recipe from Mas Vegan.
Notice any needed corrections? Please email us at corrections@wearemitu.com