9 Reasons Why Your Abuela Would Be Manager Of The Year Every Year
1. Latina Abuelitas Turn Menial Chores Into "Fun Games"
CREDIT: history of professional carpet cleaning
When your abuelita wants you to do something she'll turn it into a "game". Need batting practice? Time to hit the rugs that you have neglected to clean for months. You'll be hitting home runs in no time!
2. Discipline Would Never Be An Issue With Your Abuelita In Charge
No one dares defy their abuelita else they face el cucuy. Latin abuelitas will find the most dramatic reasons for why you need to listen. Don't let her down or else all her manager friends will be talking about her and the looming chancla will be waiting for you.
3. Latina Abuelitas Would Make The Ultimate Player Manager
CREDIT: we are mitú
Everyone knows your abuelita is going to have your back and take care of you no matter what. No umpire or opposing pitcher will intimidate you, mijito. Her warmth, knowledge and zest for life will keep you having fun while playing Baseball and no one can do that better than your abuelita.
4. Your Team Would Take First Place In Dugout Snacks

CREDIT: video recetas faciles / Facebook
Enough of the peanuts and sunflower seeds. Bring in las frutas! Abuelita will make sure there are plenty of tasty snacks in the dugout and the frutas will keep you feeling light and fresh on the field. Just be sure abuelita doesn't notice you haven't eaten in 2 innings!
5. No One Understands Postgame Recovery Like Your Latina Abuelita

When it comes to postgame recovery, vapor rub and aloe vera are the only medicine needed! There is no equal to the vapor rub cure-all, and abuelita has the best massage techniques to keep you healthy. Everyone could go for that warm abuelita foot rub after a full nine innings.
6. Teams Would Have The Most Comfortable Handmade Uniforms In The Game
They may not be the high-performance polyester uniforms, but no one can compete with the comfort of your abuelita's handmade clothes. Keeping you warm happens to be the most important attribute of her uniforms! Abuelita is sure that her superior uniforms will keep you loose, fresh, and ready for all those chilly night games.
7. Latina Abuelitas Would Share The Best Chisme For Your Scouting Reports
Latina abuelitas have the benefit of receiving chisme from everyone in the family. You will know all the dirty secrets your opponents hold. No one can get information like abuelita!
8. Your Abuelita Will Respect All Superstitions You Have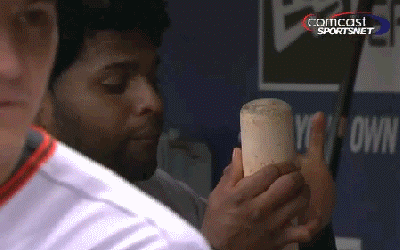 Talking to your bat to get a hit? Abuelita approves. After a rain delay? You won't be allowed on the field if your hair is wet! Latina abuelitas understand that superstitions can get in the way of gameplay. She'll help you through them and guide you back to success!
9. Abuelitas Would Always Include Music And Dance During The Game Your abuelita knows that music and dance will elevate a performance whether you're doing chores or playing a game. Everyone knows adding a Mariachi to anything makes it more epic. That's why abuelita would use a Mariachi to make every workout more epic!
Notice any needed corrections? Please email us at corrections@wearemitu.com