bad hombres
These Latino Spider-Man Impersonators Are Taking Way It Too Far
There's something amazing about costumed impersonators, especially the ones who play Spider-Man. Whenever someone puts on that iconic web-lined mask, they forget that they're not really superheroes. People everywhere, from Brooklyn to Bogotá, are injuring themselves at kids' parties. Here's what happens when you forget that with no power comes no responsibility to attempt spider-stunts.
Spider-Man is especially popular with Latino superhero impersonators.
@alexandralopez_7 / Instagram
This amazing Spider-Man could only be found dabbing in Puerto Rico.
Probably because we make it look so damn good.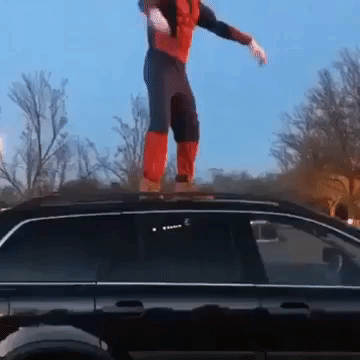 What's Trending 2 / YouTube
Even if this was your car, you'd have a hard time denying how dope this fashion-forward spider-dude looks, stunting in that crouched down modified B-boy stance. Bonus style points awarded for his unlicensed use of the Timberland boots and Yankees hat combo.
The problem with being a Spider-Man impersonator is you don't actually have any of his superpowers.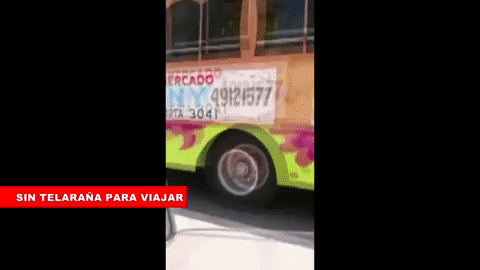 El Rincón de Baco / YouTube
Like his ability to determine when a bus has stopped.
You don't have his spider-agility.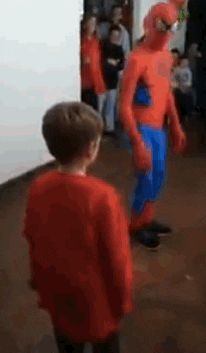 Wenzaa / YouTube
This Chilean web-head brought some little kid's birthday party to crawl after this friendly neighborhood face-plant.
And you can't climb walls…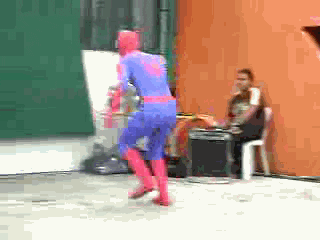 aaron alfonso gallegos de la cruz / YouTube
Here's what happens when Mexican Spider-Man tries to be Peter Parkour.
… Or even fences.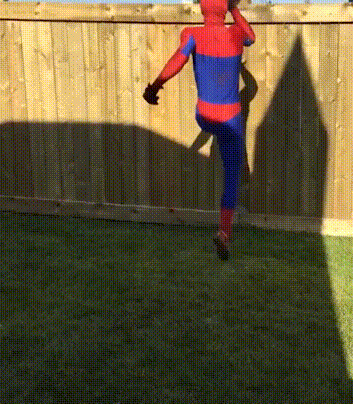 GIPHY
Good fences make good neighbors, but broken ones make lawsuits. If you hire a Spider-Man, and he gets paralyzed because you failed to reinforce your flipping pickets, get ready to pay for this classic case of gross negligence.
You don't possess his radioactive-born ability to refuse that second helping of Abuela's tamales.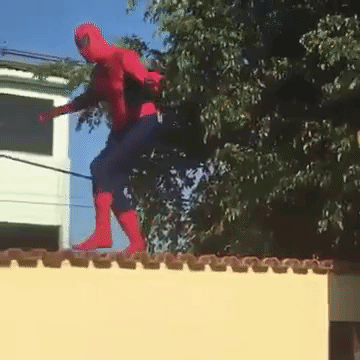 SrCulero / YouTube
We've all been there, and by "there" I mean "in a strangers living room after crashing through their roof dressed like an arachnid superhero." Am I right?!
And, you don't even have the spidey-sense to stay off the damn roof!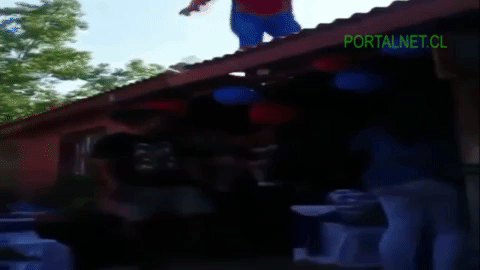 El Rincón de Baco / YouTube
There's a reason Spider-Man is called a wall-crawler and not a roof-crawler. Stay off the roof!
Even if you had Spidey's sticky hands…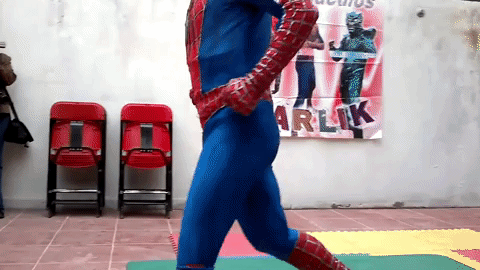 Espectáculos Marlik / YouTube
If this awkward ass handshake had lasted half a second longer, Chris Hansen would've popped out of a Venom-shaped piñata.
…You still wouldn't have his reflexes.
Espectáculos Marlik / YouTube
Yikes! People are getting hurt. Just dressing like a superhero doesn't make you one. J. Jonah Jameson was right: "Spider-Man is a menace!"
However, like the Spider-Man of Bogotá, you don't need superpowers to be the hero.
RT in Spanish / YouTube
Jahn Freddy Duque is a web-swinging daredevil (a, not the Daredevil) street performer in Colombia. Dressed as Spider-Man, he entertains on-lookers in Bogotá with jaw-dropping acrobatic stunts while suspended from a bridge by thins strands of aerial fabric. He's got children, as well as some adults convinced that what they're seeing is the comic book hero come to life.
RT in Spanish / YouTube
Should this level of his showmanship and dedication to the character be the aim for every superhero impersonator?
READ: Want Superpowers? Here's What You Should Think About Before Saying Yes
Share this story with all of your friends by tapping that little share button below!