bad hombres
There's A Guy Crowdsourcing $15,000 To Buy An Engagement Ring For His Girlfriend, But If I Can Raise The Money First, I'm Proposing To Her Instead
Mashable reported a story on William Oliver, the 30-year-old dude from Atlanta who's trying to get anybody with an internet connection to help him pay for his girlfriend's engagement ring. His GoFundMe page went viral and nobody's really sure what to think about it.
Through his GoFundMe page, William's asking family, friends, and internet strangers to buy his girlfriend a $15,000 engagement ring…
William Oliver / GoFundMe
I'm not saying she isn't worth at least that much, but you're only supposed to spend the equivalent of what you'd make in three months' salary. If William arrived at 15K using the same man math as the rest of us, then he makes enough to not even need our help. Even if you can crowdsource the whole amount, there's no way his girlfriend would be tacky enough to accept it, right?
The video he posted perfectly captures exactly why he feels that she's worth it…
William Oliver / vimeo
William's genuine reaction to being surprised by his girlfriend reveals an endearing vulnerability that gives potential donors a personal look into his relationship. Even to me, it felt genuine and for that, he deserves at least a warm Yelp! review.
But why would anybody want to give their money to William — I mean, what's in it for us me?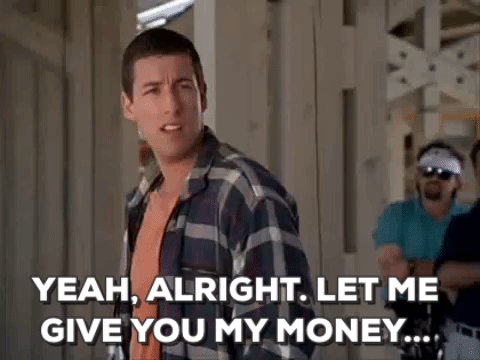 Happy Gilmore / Universal Pictures
For argument's sake, let's say I'm indifferent. In my advanced age (30 for 30, like William), I have grown as jaded as I have always been cheap. For me to even consider donating the minimum amount, I'll need something tangible to justify my contribution and offset my terminal case of buyer's remorse.
So, if I help buy his girlfriend an engagement ring, I want to be the one to give it to her…
The Simpsons / FOX
I don't know what kind of person she is, or even what she looks like. She sounds wonderful in the video, and even made a cute '30 for 30′ joke — wait, does that mean she likes basketball? Oh, if she does, she's probably a Hawk's fan… That's not a deal-breaker, I just feel sad for her because she'll never get to see her favorite team win a championship during her entire lifetime.
All I know is that she lives in Atlanta, and effective immediately, I'm launching my own GoFundMe page…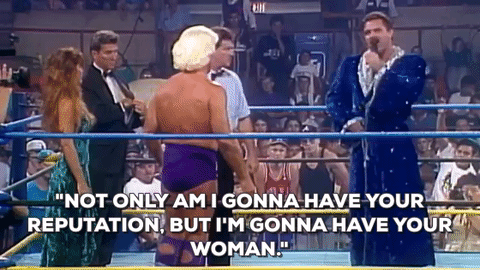 WWE / YouTube
I, hereby set out to compete with her soon-to-be ex-boyfriend, William in a race to bum money from strangers on the internet friends we haven't met yet. First one to reach $15,000 gets to marry your girlfriend.
Please leave a comment give me money! Share this story with the world by tapping the SHARE button below give me money!