bad hombres
If Someone Jumped Off The Top Rope And Hit You With Any Of These Wrestling Finishers, You'd Be Dead AF
In the world of sports entertainment, there are wrestling moves, and there are high risk maneuvers. High flying wrestlers use gravity the way strikers involve their "educated feet." The skill and balance required to perform these daredevil feats of athleticism are important to note, but what always makes top rope finishers the most talked about spots of the night is simple: they look awesome!
1) The Frog Splash
WWE
Used by the legendary Eddie Guerrero to win several titles throughout his career, including WWE No Way Out in 2004, when he captured the WWE Championship from the "Beast Incarnate" Brock Lesnar.
2) Top Rope Headbutt
WWE / Youtube
Bam Bam Bigelow was a bad man. The headbutt is one of the most brutal and primitive ways to inflict pain on someone else because if you're doing it correctly, you're probably hurting yourself at the same time. The stakes go up for you and your opponent as soon as you start climbing the turnbuckle, like "I see your concussion and raise you a forget-middle-school."
3) The Moonsault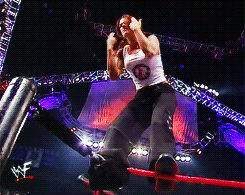 WWE
A signature move for the four-time Women's Championship winner, Lita, as well as a multitude of others, from The Great Muta to the man they call Vader, and Hugh Morris, as well as "the Heartbreak Kid" Shawn Michaels and Olympic gold medalist Kurt Angle. It was invented in Mexico by Mando Guerrero, of the famous Guerrero family (the late Eddie Guerrero, his brother, and Latino wrestling icon Gory Guerrero, his father).
4) Top Rope Elbow Drop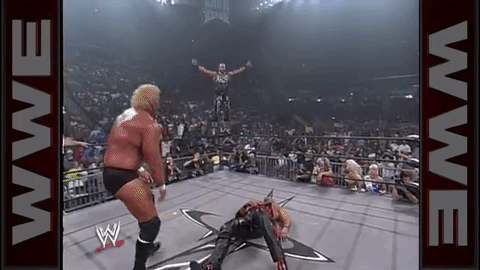 WWE / YouTube
Randy Savage was huge for me when I was a kid. This next statement probably tells you everything you need to know about what kind of person I am, but I don't mind admitting that I cut Macho Man-style promos to myself so I can be pumped up enough to deal with my fiancée's mother. If we have to go to her house for dinner, the whole time I'm just imagining myself on the top rope with both arms above my head about to drop the elbow like a damn savage.
5) The 450 Splash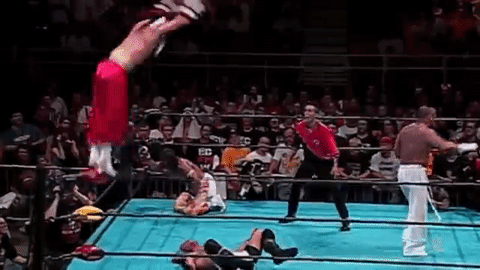 WWE / YouTube
Defined in the the dictionary as four hundred and fifty degrees of splash, probably. It is exactly what it sounds like, and it is one of the most badass-looking finishers in the business. It's been a signature move of countless champions, such as Juventud Guerrera and 2 Cold Scorpio. Even Marc Mero looked cool as hell doing it.
6) The Superfly Splash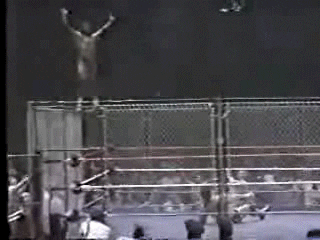 WWE / YouTube
When Jimmy Snuka jumped off the cage onto Don Muraco in Madison Square Garden, this big splash became the stuff of legend. What could be simpler than flinging your whole body at somebody with reckless abandon? Missing is a lot easier than you'd think. Factor in your fear of heights to add another level of difficulty. Oh, and then there's the trying not to die part. Gravity makes fools of us all, so even if it doesn't look as flashy as the 450 or the Moonsault, it's just as dangerous and unforgivingly painful.
7) The Whoopee Cushion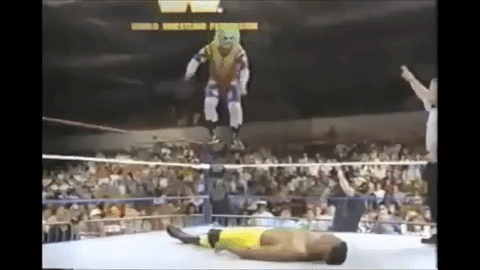 WWE
Executed correctly, this top rope Banzai Drop looks devastating. Done poorly, you break your tailbone caving in your opponent's chest. Many wrestlers have done variations of this move, but during the '90s, Doink The Clown used it to terrorize the squared circle.
8) The Coup D'etat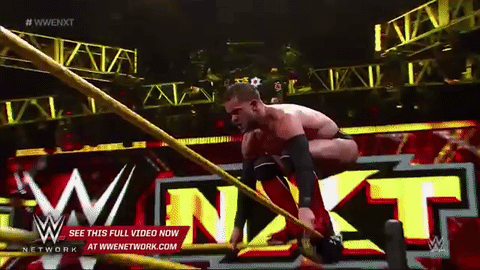 WWE / YouTube
Jumping off the top rope onto your opponent's chest like Mario crushes goombas seems like a pretty rude thing to do. It also seems terrifying and unbelievably painful. Currently, the "Demon King" Fin Balor has used this move to go from NXT, to WWE's main roster. Rest in peace, sternums.
9) The Guillotine Leg Drop
WWE / Youtube
My favorite cruiserweight wrestler in WCW was the airborne Mexican import Psicosis. His innovative style and profound technical savvy made his matches a must-watch every single week. His "Guillotine Leg Drop" seemed as surgical as it was violent. If Hulk Hogan's leg drop was could put his opponents down for the 1-2-3, Psicosis was putting his opponents down forever.
10) The Shooting Star Press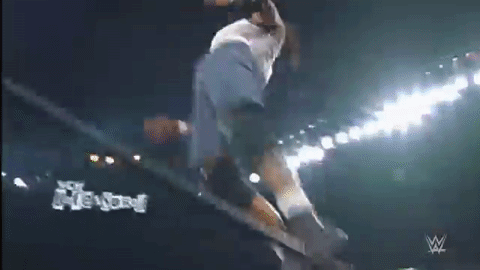 WWE / YouTube
So smooth-looking that it seems easy to do. It's not. It was used by Billy Kidman as "the Seven Year Itch," but I've always referred to it as "the Widowmaker" because I broke my collarbone attempting this move into an above ground pool from a flimsy tree branch. (Spoiler: I didn't make it.) Oh! And this is pretty good time to mention that you should never try any of these at home.
11) The Swanton Bomb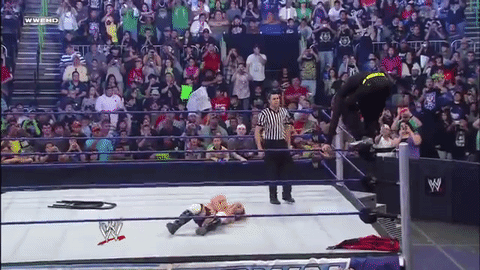 WWE / YouTube
Made famous by Jeff Hardy during the Attitude Era in WWE, this spine-warping aerial maneuver is one of the most popular top rope finishers ever. My back hurts just writing about it. #TeamXtreme
12) The Phoenix Splash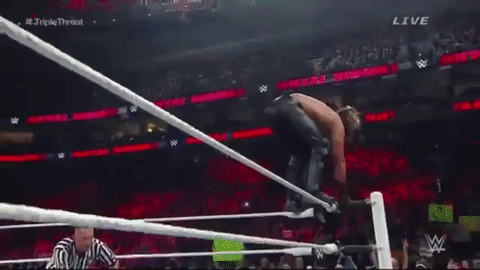 WWE/ YouTube
Pioneered in Japan by the iconic Hayabusa, the corkscrew 450 continues to create "holy sh*t" moments to this day. Most recently, it's been used on the grandest stage of them all by Seth Rollins at Wrestlemania.
13) The Red Arrow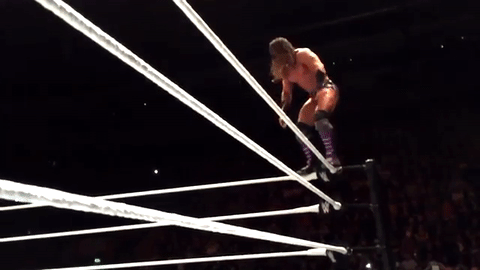 WWE / YouTube
Currently used by "the Man Gravity Forgot" Adrian Neville. I saved this one for last because the gif I made for it was in slow-motion, and that's the perfect speed to appropriately appreciate the technique and body control on display during this backflipping 360 splash.
Share this story with all of your friends by tapping that little share button below!